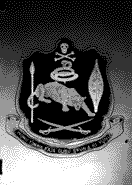 For The KING: A personalized All Glass Carved & Tempered Shower Door. Its shape was cut from 1/2" plate, notched, drilled and polished. Absonite first deep carved and etched the glass, then the glass was safety tempered.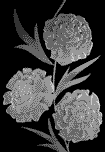 For The QUEEN: Carved Multistage Floral patterns as closet side panels, using 1/4" laminated safety glass. Created in mirrored symmetry on clear glass, the motif captures light in the edges of the carving portraying three dimensional floral images.
Detail from closet side panels for the King. Decorated by deep carving, shading and frosting.

EAST COAST, USA - An African King hired Absonite to create decorative carved glass for his U.S. home away from home. Including a carved and tempered shower enclosure, 2) tabletops, 48) french doorlites, and closet glass. While this client is confidential, we're sharing photo details of the etched glass products produced.